Arnold Creek neighbors are using various methods to control high-priority invasive plants. What method worked for you and what method failed? Contact us and share your experience. Help guide development of recommended approaches shared below.
Garlic Mustard is an agressive, invasive plant that appeared along roads in Arnold Creek over a decade ago. Each spring, neighbors diligently clear the patches that pop up on roadsides so the City doesn't need to use chemical sprays. 
Pull garlic mustard and dispose in your trash bin, not in your compost.


Join the Garlic Mustard Team
Thanks to local business Buzz White Screenprint, for donating caution signs that help keep volunteers safe when working near roadsides.
Contact us for help removing Garlic Mustard from your property or to join the Garlic Mustard Team.
Lesser Celandine is increasing its hold in the Arnold Creek neighborhood. Neighbors have been talking about it, seeing it spread, and testing different control methods. In Spring 2021, there was a quantum leap in sightings of Lesser Celandine. Spring 2022 was many times worse. It is entering Tryon Creek State Park, where it will out-compete Trillium and other native ground cover plants.
Help keep Lesser Celandine out of Tryon Park. This is an all-hands-on-deck moment.  Someone or some group is needed to take this on, watershed-wide. Contact us to get involved.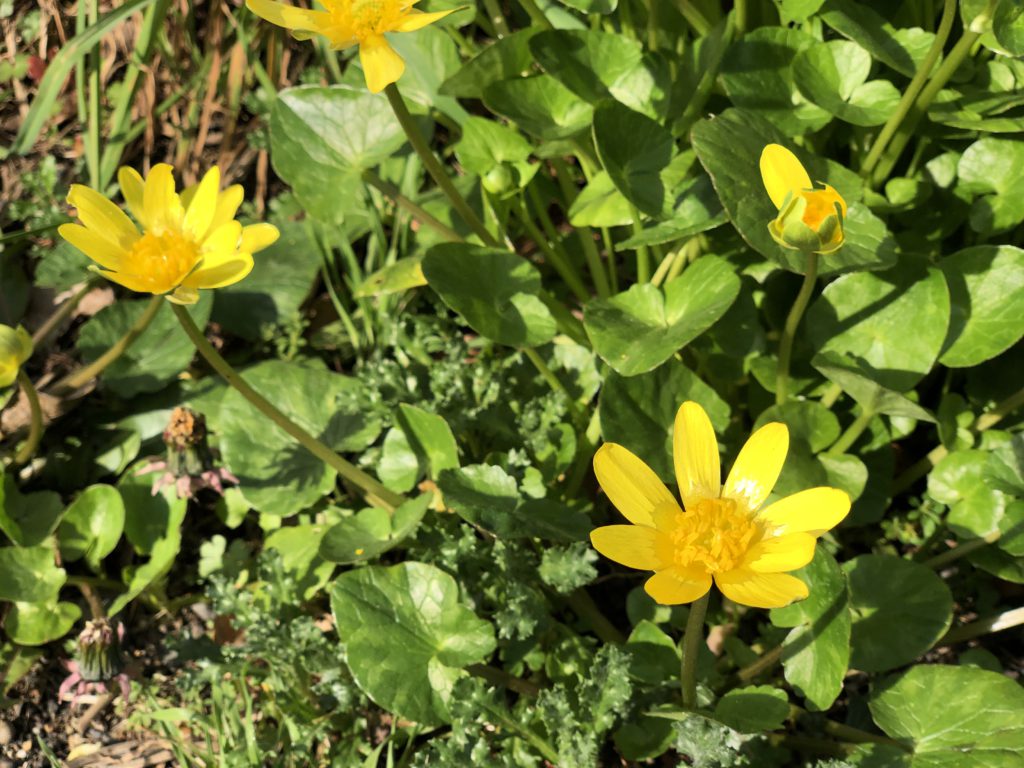 "De-veg" Lesser Celandine
Eliminate new infestations by de-veging; cut the green leaves when they pop up, preventing the plant from producing foliage. If you do this, the storage organ will eventually run out of steam and the plant will not return. It may take two years or more of de-veging. This invasive, prolific plant is only visible above ground late Winter through Spring.
If it's already bloomed, hoe off all the flowers and foliage, and hoe again when it comes back. Or, cover the patch with plastic or cardboard which will stay in place for a couple of years. Smothering should be combined with regularly checking for and de-veging escapees that have the strength to grow beneath the plastic until it reaches open ground.
In late Winter go back to the known infestation and start de-veging (hoeing off the foliage) as soon as leaves appear and rinse and repeat until it is gone.
Reportedly, herbicides do not work. Digging may be propagating not eliminating, and since you have to remove and dispose of all of the soil in the garbage, digging is a totally impractical method for large infestations. Read more about this "Undesirable Beauty" at Clackamas SWCD and West Multnomah Soil & Water.
The important thing is to start as soon as the foliage appears in the late Winter. If you wait until you see flowers, the plant has already built up strength.
Garbage, Recycling and Compost
What to do with your garbage, recycling, and compost.
Litter and graffiti cleanups. Where to report overflowing trash in public areas, abandoned vehicles or shopping carts.
West Multnomah Soil & Water CD
Tryon Creek Watershed Council
Arnold Creek residents may be elidgible to receive services from Tryon Creek Watershed Council.
Restoration project assistance – applying for grants and project management for individual and adjacent landowners.

Watershed 101 workshop for groups, includes education and a hands-on work party.
Westside Watershed Resource Center
Inspires awareness and action on behalf of watershed health for Portland's westside.
Stormwater Stars hands-on learning workshops in partnership with West Multnomah Soil & Water Conservation District
NativePlantSwap.org website to give or get free native plants and advice from your neighbors
4-County Cooperative Weed Management Area
The Clackamas/Clark/Multnomah/Washington County Cooperative Weed Management Area (4-County CWMA) is a partnership of organizations, agencies and non-profits dedicated to combating invasive weeds across the region.
A unique program that supports urban gardeners in their efforts to create natural backyard habitats.
For sites smaller than one acre. A technician will assess your property, help you plan, and provide discounts for plants and materials. A collaborative effort of the Audubon Society of Portland and the Columbia Land Trust.