The Arnold Creek Neighborhood Association acknowledges the land now known as Portland rests on the unceded territory of the Multnomah and Clackamas Bands of Chinook who made this area their home. We extend our deepest gratitude to the First Peoples who were the original protectors and stewards of these lands and acknowledge all they have endured, and continue to endure, so that we may also call this place our home.
City of Portland Resources
Contact us to learn how you can weigh in on land use projects and hear what others have to say.
February 17, 2023 LU 23-003911 EN
We received Notice of a Type Ix Proposal from Oregon Parks and Recreation for land owned by the City of Portland and Metro. They propose to built a natural surface hiking trail which will run between Marshall Park and Tryon Creek State Park. The proposal requires a Land Use Review as they will remove 3 native trees over 12″ diameter. A map of the proposed trail is included with the LU notice. There will not be a hearing. A decision will be made by Morgan Steele of COP Land Use Services. To comment on this proposal, send an email to Morgan.Steele@portlandoregon.gov by 5pm March 20, 2023.
January 25, 2023 LU 22-214179 EN
We received Notice of a Type 1x Proposal for the Oregon Parks & Rec. Dept land beneath the new SW Boones Ferry Bridge. Portland's Bureau of Environmental Services wants to do further work to enhance Tryon Creek below the bridge including creating a widened roughened channel to limit the erosive energy of the stream, improve fish passage, and create a more resilient stream ecosystem. They will remove 20 native trees adjacent to the creek for the purposes of widening and roughening the channel. BES will restore and enhance these areas upon project completion by planting native pants within specific regimes including, wetland, stream banks, and upland. A decision was made on this proposal on March 6, 2023 to approve the project. A zoning permit will be required for the construction work. A map of the mitigation area that will be subject to removal of invasive plants and replanting of native plants is included in the proposal.
Steven and Brandi Whitaker, the owners of the property at 12050 SW 29th Ave which was recently approved for a 4 lot land division have applied for a Final Plat. If their proposal is consistent with the approved preliminary plan, it will be accepted and the land will be officially divided. They will have 3 years to work with the city to meet the final land division requirements.
Don and Coleen Blazer, ACNA neighbors and owners of the

large property near the corner of SW 29th Ct and SW Comus St

which was approved for an eight lot land division in 2020 recently sold their property to Evergreen Investment Venture Group. The Blazer's had not yet applied for a Final Plat of the land division. The new owners will have until 9/17/23 to make the application or the preliminary land division approval will lapse

.
Residential Care Facility (Miracle Heights)​
Arnold Creek Neighborhood Association would like to get feedback from residents regarding this major development proposed for our neighborhood. Please send your comments to board@arnoldcreek.org.
The original proposal for a Residential Care Facility (Miracle Heights) on the south side of Clara Lane at Boones Ferry was withdrawn earlier this year. The application has now been re-submitted. The main changes are the addition of a 3,054 sq. ft. basement which includes an owner's apartment, and the addition of one bed for a total of 52 beds. The total square footage of this two storey building plus basement is 30,455.
This proposal is a non-conforming development in a single-family residential zone, so it is subject to a Conditional Use Review which will assess compatibility with the surrounding neighborhood.
This proposed building will eliminate the existing wetland which covers most of the property. Mitigation will be required.
Improvements will be required to the Boones Ferry right of way, and Clara Lane bordering the property will be brought up to current roadway standards.
West Portland Town Center​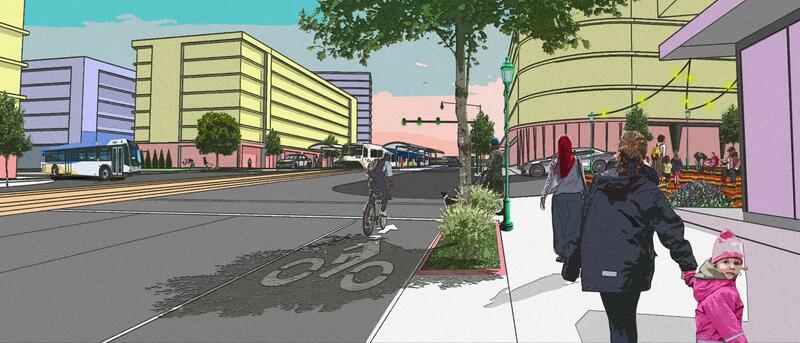 For decades the area around the intersection of Barbur Blvd, Capitol Highway/Taylors Ferry, and I-5 (known as "The Crossroads"), as well as neighborhoods to the north and south, have remained largely unchanged. The use of land and roadways reflects old planning practices that prioritized space for cars more than people.
1992 Southwest Hills Resource Protection Plan
The Southwest Hills Resource Protection Plan serves as a policy document for planning staff in evaluating development proposals through environmental review. The plan also serves as a reference for property owners, developers, citizens and neighborhood groups.
The Southwest Hills Resource Protection Plan provides the inventory, analysis and recommendations for protection of significant natural resources located in southwest Portland. The project study area covers 7,000 acres south of the Balch Creek basin and downtown Portland, including the areas which drain directly into the Willamette River.